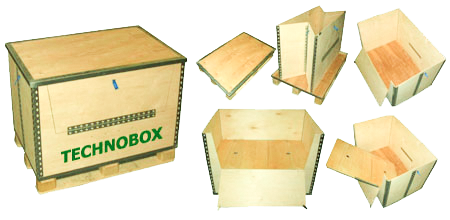 TechnoBox Returnable is a durable and easy-to-handle returnable packaging box made of steel, six hinges and Birch plywood. This allows our boxes to withstand the rigors of multi-use and return freights. This box has the option to be returned collapsed in order to save the costs of return transportation. Under regular operating conditions, a single TechnoBox Returnable replaces more than forty one-way packaging boxes.
This box can be collapsed to optimize space in return shipments and storage. A use of returnable boxes can bring huge cost savings compared to expandable boxes. TechnoBox Returnable boxes are very cost-effective especially when your company material flow is extremely high and you have few distribution points.
The boxes are manufactured in several standard sizes but also can be made up to customers' sizes.
Benefits of returnable plywood boxes:
Easy to assemble

Delivered disassembled so boxes are easy to stack and store

Material used in boxes production provide superior product protection

Smaller weight comparing to other traditional nailed wood products

Long lasting, highly durable

Ideal for returnable packaging

Can be returned as one box ( collapsed ) 

Can be made up to customer requests regarding dimensions and features (handles, gates, surface treatment etc.)

Meet international phytosanitary regulations for export-compliant wood packaging